Amenities
The Villa Sudana has all the amenities you would expect of a luxury villa and in a well designed spacious manner. As you enter the traditional Balinese gate you will immediately notice the lush tropical garden and the large swimming pool. Also located in the garden are a nice Balinese gazebo and sun chairs for outdoor relaxing.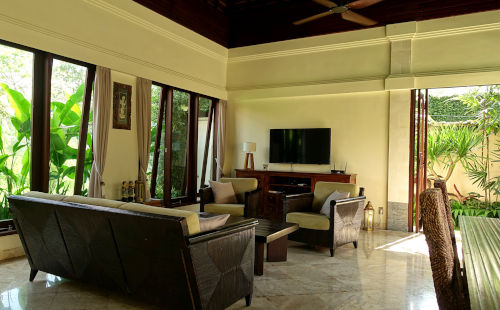 Living Room
The bright main living room area with it's spectacular wooden roof construction makes it feel cavernous in size. When all the folding doors are open the directly connected swimming pool becomes another special feature.  The large windows and doors makes the living space one with the garden and well ventilated to let the tropical breeze in. Comfortable sofa's, a large dining table and a small bar between the kitchen and the living room complete the picture. For entertainment there is a tv, DVD and WIFI available.
Kitchen
A well equipped kitchen for preparing simple meals is located next to the living room. Hot and cold water dispenser, microwave, oven, gas stove, toaster and large fridge are present as well as a full set of cooking and eating utensils.
Meals are not included, but freshly baked quality European style bread can be ordered from the caretaker who lives close by. A BBQ is also available for rent for special occasions.  Ordering simple meals can be arranged on request in advance as well.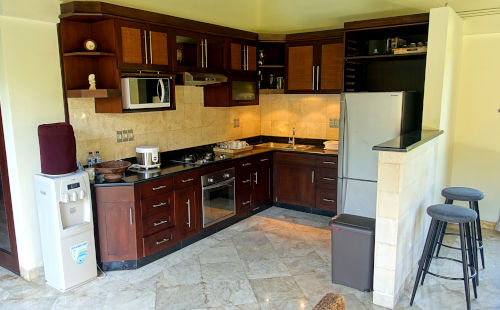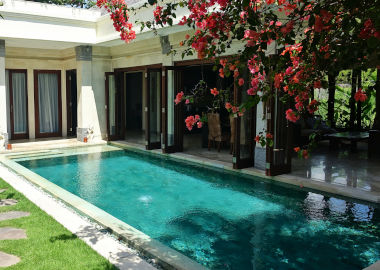 Swimming pool
Directly attached to the living room is the large swimming pool measuring 8,5 x 3,5 meters and a depth of 1,5 meters. The pool is lined with natural stone, which gives it the nice azure color.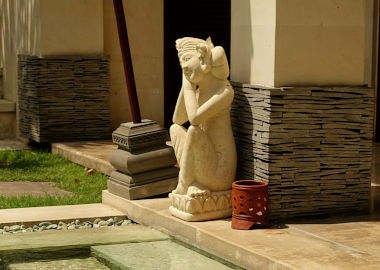 Cleaning service
The Villa is cleaned daily by our lovely caretaker who lives close by the Villa, speaks good English and can provide you with most information you need regarding the Villa and the Sanur area.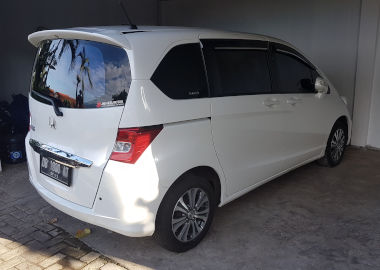 Car and tour rental
At the Villa Sudana there is a Honda Freed with automatic transmission available for rent. With or without a driver can be arranged and tours can also be discussed during your stay.